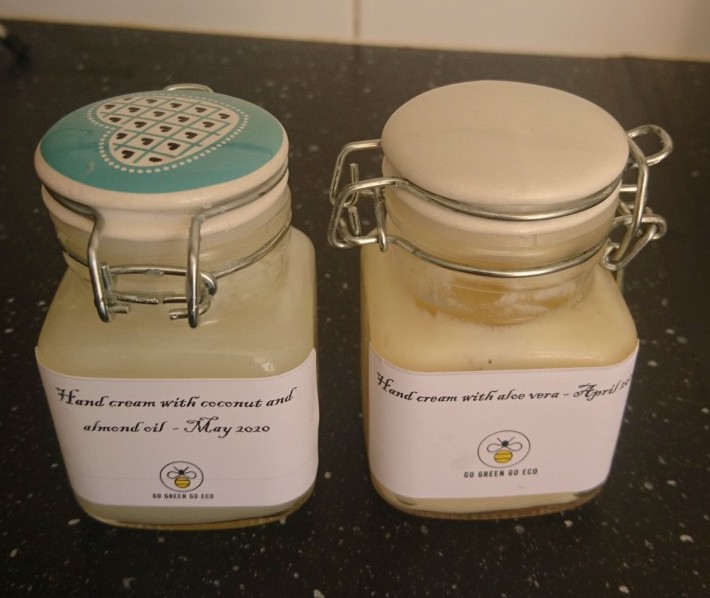 There has never been a better time to make your own natural hand cream. We're all frequently washing and scrubbing our hands with soaps and gels. And our skin is not enjoying it. Mine is definitely not a big fan! That's why I decided to try natural homemade moisturisers and here are the two ones I tested so far. You might see more recipes on this blog soon as I am still searching for creams I can carry in a handbag. But as I am not using any preservatives, the mixes I made so far need to either stay in a fridge or be kept out of heat. But they smell and feel amazing!
Benefits of a natural hand cream
The two recipes I tested use natural and organic ingredients only. Zero preservatives and no artificial fragrances.
There is no plastic waste as I keep my creams in glass containers. I actually bought them for mousse starters but never used them before.
My coconut and almond cream cost me roughly €5.50 (for 65ml) so this is quite a competitive price for a purely organic product.
Aloe vera is perfect for skin, as it contains antioxidants, enzymes, vitamins A and C. It can help treat burns, acne and dry skin.
Coconut oil is extracted from the meat of mature coconuts and "may improve skin barrier function and repair, has anti-inflammatory and antibacterial properties, fights the signs of skin ageing, and makes an effective moisturiser", according to International Journal of Molecular Sciences.
Almonds are very rich in fat, making them a perfect source of oil. This oil is frequently used in cosmetics and is packed with vitamin E, which may help protect the skin from sun damage and premature ageing. It is also a perfect moisturiser.
Lavender and lemon essential oils are fantastic additions not only as pleasant fragrances but also as mood boosters (lemon) and stress relief (lavender).
Aloe vera cream
Ingredients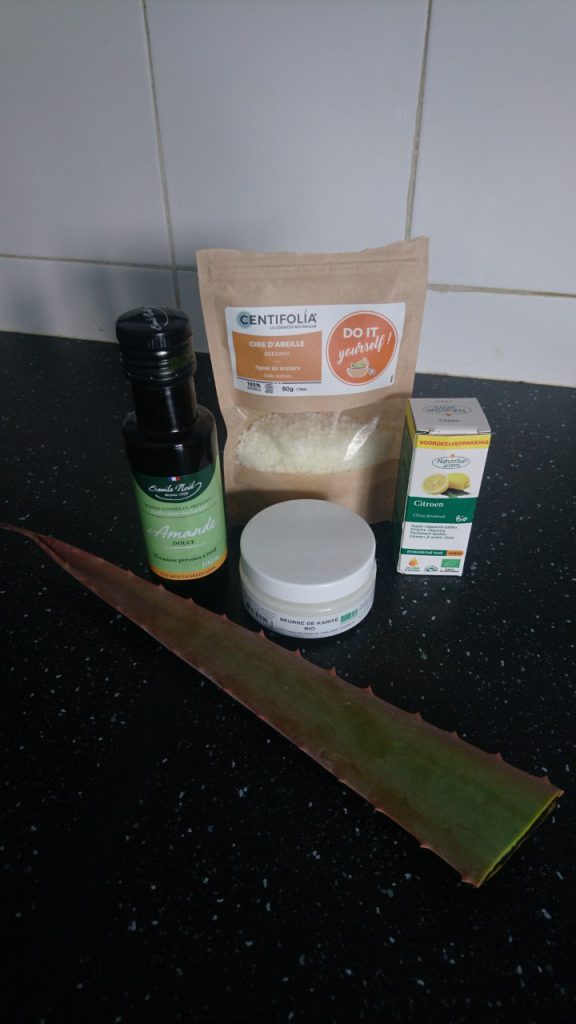 1 cup aloe vera gel (I cut a few leaves of my aloe vera plant and removed the sticky paste from inside)
1 tsp + 1 tbsp beeswax pastilles (they're useful for many natural cosmetics such as lip balm so worth buying)
1/2 cup almond oil
1 tsp vitamin E oil (optional – I didn't have it)
1 tbsp shea butter
Essential oils of choice (I added lemon)
Method
Melt the beeswax, almond oil, and shea butter (if using) over a pan of water. I usually use a metallic camping cup. Just be aware that you might just have to dedicate one cup for this purpose as it is hard to clean it afterwards.
Remove from heat and pour into a glass container and whisk
Let cool to room temperature. You want it to be room temperature and just barely starting to harden around the edges. This will help make sure that the lotion emulsifies correctly.
Add your essential oils.
Whisk again. Very slowly, start adding the aloe vera paste (pass it through the sieve first) until incorporated. Use a spatula to wipe down the sides and re-blend a few times until fully incorporated.
Store in a glass container in the fridge for up to six weeks.
Almond and coconut oil hand cream
Ingredients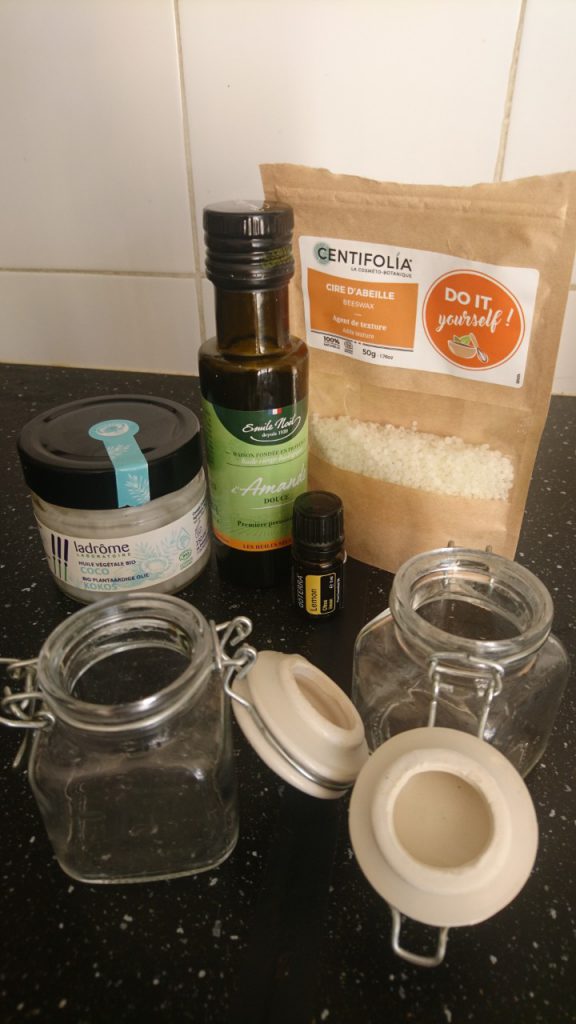 5 tbsp coconut oil
1 1⁄2 tbsp of sweet almond oil
2 tbsp of beeswax pastilles
5 drops of lemon essential oil
5 drops of lavender essential oil
Method
Put a heat proof glass container in a pan of simmering water. Melt the coconut oil, beeswax, and sweet almond oil together until the ingredients melt.
Let it cool a little bit and add essential oils. Your natural hand cream is ready! This recipe makes approximately 65ml of cream.
Pour it into a hand cream glass container. It will start setting very fast but watch out if you leave it in warm conditions, it will start melting again.
More ideas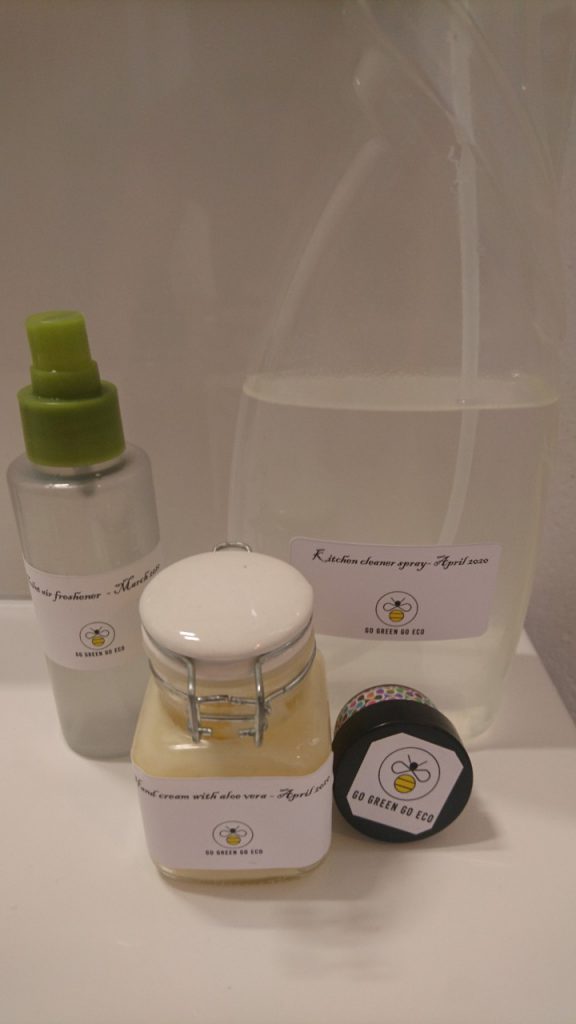 Notes
While I am teaching myself how to make natural cosmetics, I am also discovering certain rules and learnings. Make sure to read them to avoid unwanted surprises.
Careful with using citrus oils when going to the sun. They might make your skin photosensitive.
All the creams I made so far seem quite oily. One of the reasons might be as coconut oil absorbs slowly. I will be learning about non oily lotions soon and I will share my findings.
Make sure to store your products properly. As there are no preservatives added, they need to be kept in cool places. Don't use them if you see any signs of them going off to avoid harming your skin.
Disclaimer
All the recipes included in this blog have been made and tested at home. Please note that I am not a cosmetics or food professional. Always consult your doctor in case of any allergies or reactions.